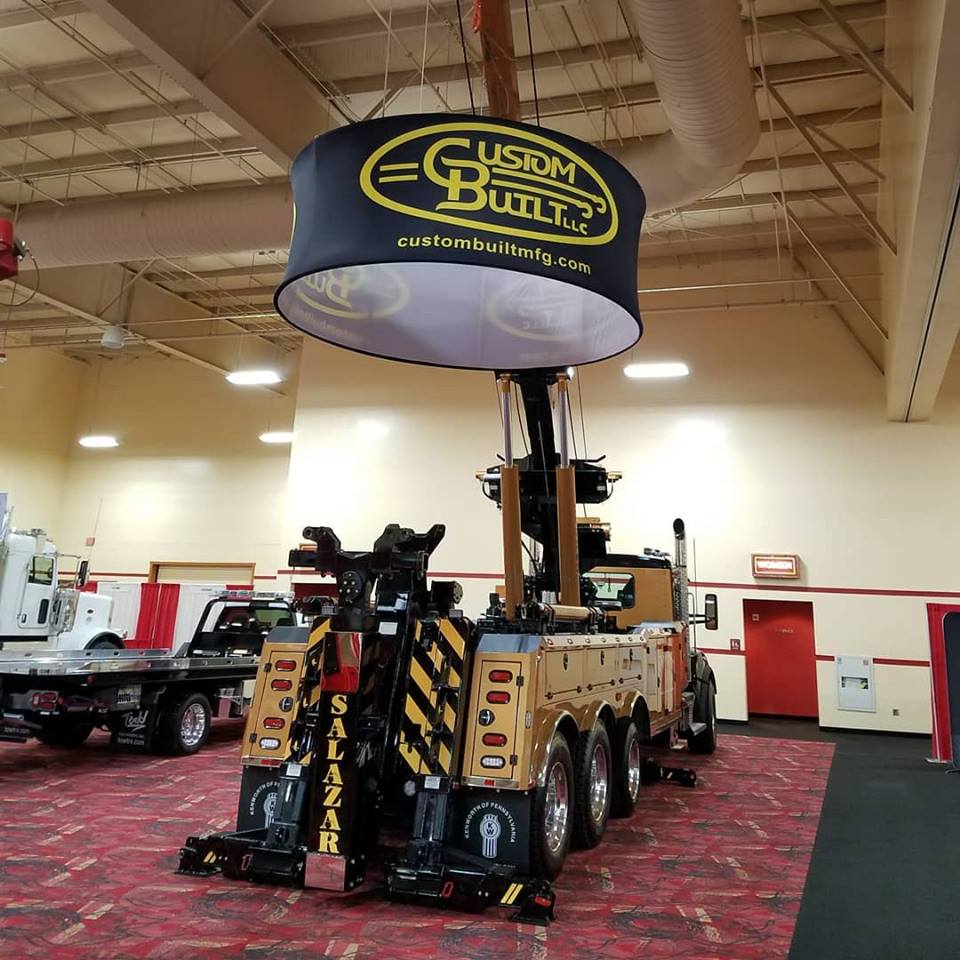 At Custom Built Manufacturing, our team has been attending various tow shows throughout the country for 10+ years. While many aspects of tow shows have changed since we started attending, a lot of the value has stayed the same.
We've put together the top 5 reasons to attend a tow show in 2019 (and even into 2020!) for anyone who is on the fence about heading to a show.
5 Reasons to Go to Tow Shows:
Vacation

Camaraderie

Training

Latest and Greatest

Inspiration
Keep reading for expert tips on each of these considerations!
#1 – VACATION
Unfortunately, many of us can't afford to be away from our business for long periods of time, and being able to have a mini vacation is just what we need. 

Most Tow Shows now are focused on the entire family as well as the tower.  There are events for the Lil' Towers as well as demos, dinners, and BBQ's for the whole family. All of these events provide awesome networking opportunities with like minded individuals in the industry.

Pro Tip: As much as you want to be with your whole family the entire time, be sure to schedule some time to see each booth without the interruptions of distractions like potty breaks. Working vacations are a hard thing to manage, but this time to yourself will help you focus on why you are there and make the most out of the trip.
#2 – CAMARADERIE
It's nice to be around people who speak your language — when you can talk with someone and mention a Snatch Block or Scotch Block and not have to stop to explain what it is or how it works. 

It's also nice to reminisce on past industry trends and products that have come and gone. Unless you work for a large company or you are very close with other local towers, you don't get this chance that often.

Before the Internet, these tow shows were the only place where all the good stories were told. While nowadays it's true you can hop online and read about an awesome recovery, nothing beats listening to the story being told in person. Plus, you get the chance to ask questions in the moment, and pick up on tips and tricks of your own.

Pro Tip:  Make an effort to meet someone new at the next show you attend.  Ask them about their stories and how they do it back home. You will both learn something new and might make friends, or business connections, for life.
#3 – TRAINING
Shows now offer training seminars ranging from a 1 hour class on safety apparel to full 2 day certifications. 

Companies like WreckMaster, TRAA, and Recovery Billing Unlimited offer these certification courses and the group of students you will meet are from all over the world. 

When you have students from all over the world, all in one class, different questions get asked that may not have been asked in a local class you would have attended at home.  In many cases you will gain knowledge from a fellow student as well. 

Pro Tip:  Be sure to review the training schedule for each show.  There are so many things going on that there is a chance a class may overlap with something else you wanted to see or do.  Plan accordingly.
#4 – LATEST AND GREATEST
This is the place to see it all.  All of the manufacturers are here to display the best products they have to offer.  You have seen it in a magazine or online, but here is your chance to see it up close and decide for yourself if it's the right fit for your company. 

In most cases the designer, manufacturer or owner of the company is in the booth and can answer just about every question you could think of.
Pro Tip: Do yourself a favor and take the time to stop at every booth and at least see what they are offering.  These vendors have a product that they think is the best for one reason or another. It may be the perfect product for you, or it may not be, but at least you took the time to find out.
#5 –  INSPIRATION
Take this quick time away to reboot and get inspired about what you do.  Take a look around the show and see how many other people choose to do the same job you do and be proud of the brotherhood. 

Consider what drives you to this profession, what you learned during this Tow Show or training and how it can help you move forward with your career.
Pro Tip: While you're travelling home from the show think about a goal you can focus on for this upcoming year.  Things like, becoming a certified operator, purchasing a new tool for your truck, growing your business or fleet.  Then next year when you are attending the same Tow Show look back at what you have accomplished in 12 months. It will be rewarding!
Where to Find Custom Built Next:
Custom Built has committed to displaying at more Tow Shows this year than ever.  As our brand grows we are excited to meet new people and see old friends at these Tow Shows. 

Whether we have a small inside booth or a couple of trucks on display please stop by and say hello (it's less fun standing in the booth by ourselves).
Come see us at:
The Ohio Tow Show, September 27th and 28th
The Atlantic City Tow Show, December 6th – 8th
Want to set aside some time at the show to discuss your company's specific wrecker needs? Utilize the button below to schedule an appointment: