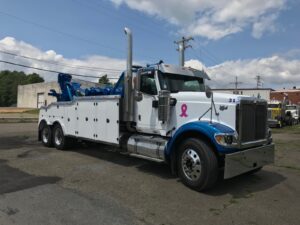 When faced with a scenario that necessitates adding a new wrecker to your fleet, you're exploring two main options: buying a used heavy duty wrecker, or custom building your own wrecker.
The truth is, there is no "one-size-fits-all" answer for whether used or new custom is better, so we've put together this consideration guide to help you make a decision based on what is best for your fleet and your customers. 
4 Things to Determine Whether to Buy a Used or New Custom Built Wrecker
The decision really boils down to these 4 things:
Price

Functionality 

Timeline

Brand continuity
Depending on how high each of these items are on your priority list, can help determine whether used or custom is better for your business. We've included some of the considerations for each below.
1. Price
There's a reason price is first on this list. We understand that for many companies, price is not only the first and foremost consideration, but at times the only consideration. 
But, when analyzing the price on your future heavy duty wrecker, it's important to not only look at the initial investment price, but the long term price of owning the truck.
It's true that used wreckers are cheaper initially than custom new wreckers. However, it's not uncommon for the price of utilizing the used wrecker over time compared to the price of the new wrecker to outweigh the upfront savings.The truth is, when buying used, you simply cannot be certain of the quality of the wrecker.
It's important to account for quality implications that can affect price, including:
Wear and tear on the vehicle body

Wear and tear on the tires

State of the paint on the vehicle 

Mileage on the truck

Hydraulic Valve & Line Condition

Winch & Winch Line Condition.
All of these things can sneak up on you and incur costly expenses over time.
2. Functionality
Depending on the wrecker, "used" can imply "dated." You're no stranger to the ever changing municipality guidelines happening in the towing world, and while a used wrecker might meet the specifications that you need in 2019, it's important to look ahead to 2020, 2021, and beyond.
Functionality capability and technology are constantly changing. If you're going to invest in a wrecker to add to your fleet, why not make sure it's state of the art and able to handle jobs for your company for many years to come?
3. Timeline
It is worth noting, if you are in a pinch to add a wrecker to your fleet, it might not be preferable to go through the process of specing a custom wrecker and waiting for it to be fabricated. In situations like this, it might be worth taking the risk on a used wrecker.
If this is a scenario you currently find yourself in, you can check our site for used wreckers listed for sale to see if any fit what you're looking for.
4. Brand Continuity
When purchasing a used wrecker, there's probably little to no chance that it will match the design, colors, and branding of other wreckers in your fleet. In order to do so, you'll have to pay additional fees to have the exterior painted and designed to mesh with your other trucks.
If you purchase a new, custom built wrecker, you can design the outside to match the rest of your wreckers, and the final truck will function as a beautiful piece of mobile marketing for your company.
Not Sure Whether New or Used is Right For You?
This article serves as a general guide for procuring a wrecker to add to your fleet, but does not apply to every unique scenario.
If you're curious about what the right choice is for your business, please reach out to our team. We're happy to brainstorm the best solution for you, and point you in the appropriate direction to get your project moving.